The fast and lightweight vine tying machine that speeds up your work
Lightweight and easy to handle, the new generation FIXION 2 vine tying machine boosts your productivity. Time savings of up to 50% compared to hand tying mean that the investment pays for itself very quickly. Its record weight of 800 g, including the battery, gives you great freedom to move around while you work. Its ergonomic handle and battery life let you hold the tool securely in your hand throughout a full working day.
The tie band that hooks onto the user's belt holds up to 1500 ties, the tool-mounted version holds up to 450 ties or 1 500 ties.
Four types of tie are available, each suited to certain environmental conditions of the vineyard, the weight of the plant to be tied, and the desired duration of the tie.
- Decomposition after 10 to 12 months depending on weather conditions, the weight of the branch, and the quality of the trellis wire.
- 0.44 mm steel wire. Average tie strength = 14 kg
- Decomposition after 7 to 10 months Envelope composed of paper + corn starch-derived PLA (polylactic acid)
- 0.44 mm steel wire. Average tie strength = 14 kg
- Little decomposition. Used for cordon system vines and installing irrigation hoses.
- 0.44 mm stainless steel wire. Average tie strength = 14 kg
- Decomposition after 6 to 9 months. The paper retains moisture, which is conducive to the decomposition process.
- 0.36/0.44 mm steel wire. Average tie strength = 9/14 kg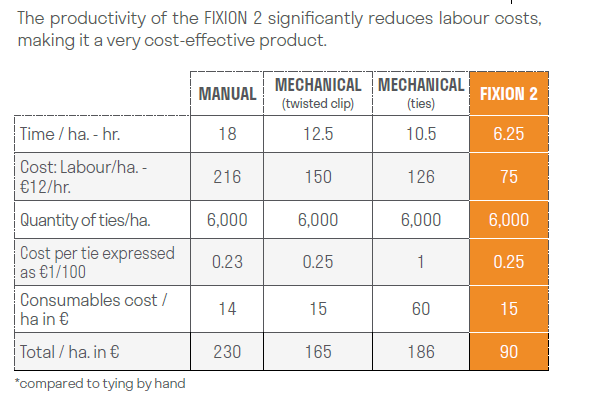 Equipped as standard.
Available as an option
FIXION 2
Weight of the tying machine alone - g
800
Sound pressure level (LPA)* - dB(A)
≤ 70
Guaranteed sound power level (LWA)* – dB(A)
≤ 81
Vibration level (Ah)** - m/s²
≤ 2.5
Compatibility of PELLENC ties
Financing offers
With PELLENC Financial Solutions, it has never been easier to go green!
Warranty and restoration services
Discover our manufacturer's warranty programme of up to 3 years, covering parts and labour (excluding wear parts).
PELLENC offers a maintenance service called PRO ACTIV' MAINTENANCE for your VINION, PRUNION, and FIXION 2 tools, so that you can have your equipment serviced.
"It gives you freedom of movement and means you can spend a whole day tying efficiently."
Sébastien &amp
Vine growers, Pertuis, Vaucluse
Find a dealer
Our experts are on hand to answer all your questions. Find your local dealer now.
SEARCH